Plus Size Swimwear: How to Select the BEST Swimsuit for your Body Type
Every body is unique. And everybody has physical aspects they'd like to both highlight and downplay. By using a few design elements to your advantage, like high waisted bikinis, tummy control panels and underwire support, you can mask perceived imperfections and create the illusion of a more proportional, lean physique.
For those with voluptuous curves, diagonal lines – more than any other design detail – can work wonders to shape your silhouette. Harness this optical illusion and others to benefit your unique body type.
Best advice: try new silhouettes each season. Swim styles are always changing and you may stumble across a style that happens to perfectly flatter your body.
Whether you consider yourself plus size or have an area of your body that you'd like to feel more comfortable with there are hundreds of plus size swimsuits and styles to choose from.
Best Swimwear For Small Chest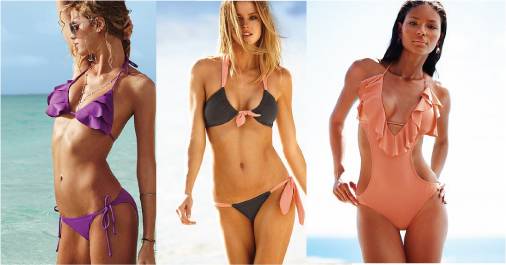 Best bet for a girl with a smaller chest is to go for a top with embellishments or ruffles to give the illusion of a larger chest.
Suit with padding can help to give you a little something extra.
back to menu ↑
Best Swimsuit For HUGE Chest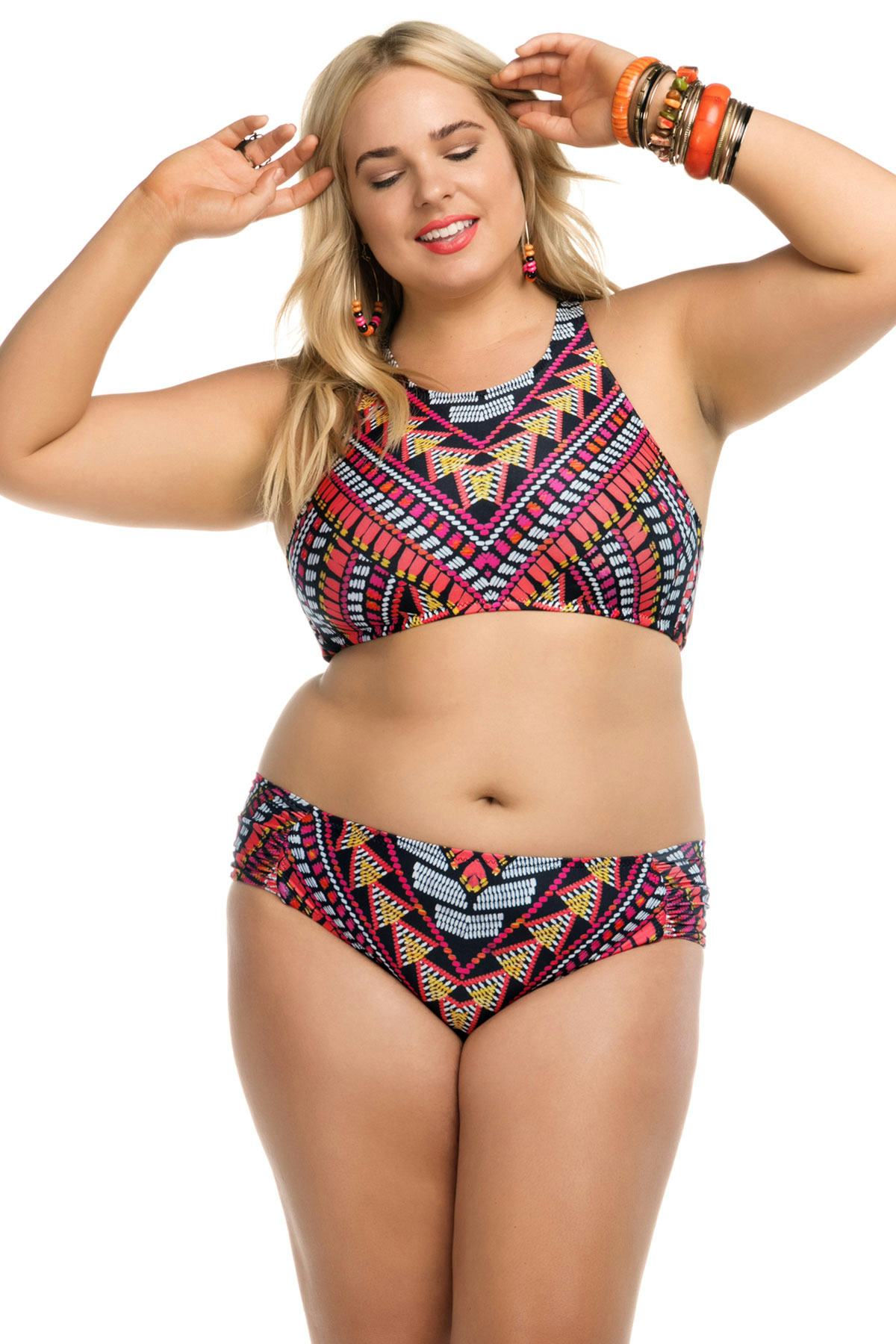 For girls with big boobs, string bikinis are not your friend, nor are bathing suit tops that come in size S, M and L.
Cup sizes and underwire will offer you the support you need so your boobs won't be all over the place when you take a dip.
Look for thicker bathing suit straps and double-stitched bands for the most flattering results.
back to menu ↑
Best Swimsuit For Broad Shoulders
Opt for a solid colored suit with printed panels along the side.
This will help create the look of an hourglass figure, thus evening out a boxy upper body.
You can also rock an asymmetrical neckline, which will draw the eye up and away, instead of straight across.
back to menu ↑
Best Swimsuit For Flat Booty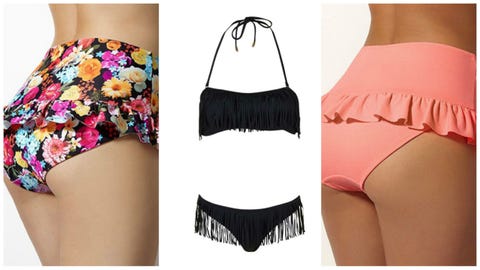 Frills and ruching come in handy, as they give the illusion of a bigger behind.
Opt for bottoms in bright colors and loud prints to try and distract from a flatter tush.
Also, showing a little cheek is preferably to full-coverage bottoms.
back to menu ↑
Best Swimsuit For Big Butt
If you've got an ample backside, string bikinis and high-cut swimsuits can often be uncomfortable and a bit too revealing.
You'll need a suit with enough fabric in that area so you're not constantly tugging for more coverage or picking a wedgie.
You should look for designs with solid bottoms and printed tops — which will help balance out your big booty.
back to menu ↑
Best Swimsuit For Compact, Athletic Body
The goal here is to give the illusion of more curves.
Can be easily done with a top with cups, padding and gathering, and by picking girlie prints and bright colors.
Don't go for straight-across bandeaus, boy-cut briefs or shapeless full-pieces, as this will only enhance your athletic figure.
back to menu ↑
Best Swimsuit Type For Short Torso
The trick to elongating a short torso is adding length and lifting the bustline.
Low-rise bottoms make your torso appear longer and halter straps draw attention to your neck and shoulders, making people skim over your short mid-section.
back to menu ↑
Best Swimsuit Type For Back Fat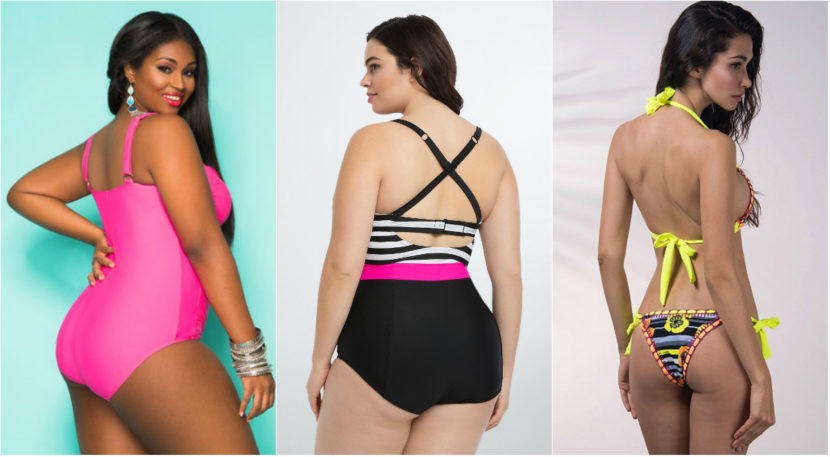 The last thing you want is a suit with thin straps that will dig into your skin and make those dreaded flesh folds even more pronounced.
Look for designs with thicker straps and high backs to smooth any lumps and bumps.
back to menu ↑
Best Swimsuit Type For Full Thighs
To try and flatter a fuller thigh, opt for bottoms with a little bit more coverage.
Bottoms with a skirt can help to conceal part of your upper leg.
back to menu ↑
How To Hide A Tummy Pouch
Peplums, aren't just great to wear to the office — they are also perfect for a day at the beach.
A full-piece with ruching can also help to conceal your stomach.
Choosing any one-piece with a plunging neckline will help to keep the focus upwards, rather than on your mid-section.
back to menu ↑
Swimsuit Type For Big Hips, Skinny Legs
The key with this body figure combo is balancing out your shoulders and hips.
Since you've got plenty of hip, pick a suit that gives the illusion of an elongated clavicle.
Off-the-shoulder numbers will do the trick.
back to menu ↑
Best Swimsuit Type For Pregnant Lady
Since you don't want anything too tight around your midsection, it's best to look for tankinis since they provide ample wiggle room, sun protection and easy access to your growing belly.
And speaking of easy access — a two-piece makes going to the bathroom a breeze.
back to menu ↑
One-Size-Fits-All Swimsuits
Surprisingly, there have been plenty of advancements in the one-size-fits-all categories.
Some of them do look good on most.
If you find your body type to be a combination of two types, this could be a good option for you as well.
Most one-size swimsuits are one-pieces.
Exercise caution when purchasing – try them on in stores first if you can, and if you cannot, absolutely pay attention to the reviews from customers.
back to menu ↑
Shopping for Your Ideal Swimsuit
Set your budget first and foremost.
A good suit should be interesting, flattering, fairly priced and color-fast.
Once you have a few options in your chosen category that is ideal for your body type, it's time to shop for the perfect swimsuit.
back to menu ↑
Shopping for Swimsuits Online
Shopping for your swimsuit online can seem very daunting but with the magic of today's options, it doesn't have to be.
You can go through more options, find the best prices and discover new favorite brands.
Search for your swimsuit by body type.
Check reviews! Especially regarding the actual fit of the suit – people will often disclose their body type, shape, weight, measurements and how the material felt, looked and held up to wear and tear.
Use Pinterest! Finding options on Pinterest is a great help, especially when searching for swimsuits to complement your body shape. Once you choose one, you can scroll down you can find other similar options, then trace the image back to where you can buy.
Pay attention to the material. When searching online you can see the size options and color options, of course, but the material breakdown can tell you how much stretch you can expect from a swimsuit, how permanent the colors will be and so on.
For those concerned about chafing, comfort, how the swimsuit will sit and how long it will last should definitely pay attention to the material. Polyester is the typical swimsuit fabric, especially for competitive swimwear, because it is resistant to sun bleaching and chlorine making it ideal for keeping its color. The material is strong, comfortable and holds its shape well while providing 4 ways stretch. It is easy to wash and resistant to pilling, shrinking and wearing thin.
PBT (a polyester blend) has the lightweight, chlorine resistant features of polyester, but stretches like lycra, which means it can be more comfortable. It dries quickly and repels water. Additionally, PBT bathing suits are snag-resistant and have a matte finish.
Nylon is another popular swimsuit material that is soft and does not absorb a ton of water. The four-way stretch is fantastic, and these swimsuits are easy to wash in the laundry. Nylon swimsuits are abrasion resistant, but they do not last as long as polyester bathing suits.
Elastane (lycra/ spandex) swimsuits are found in the more form-fitting swimsuits, but these will wear out much quicker than nylon and polyester. These are also the most likely swimsuits to end up baggy and difficult to wear and keep for long term.
Don't be afraid of blends. As an example, polyester swimsuits blended with 18% to 20% spandex are ideal, high quality, comfortable and flattering.
back to menu ↑
Shopping for the Best Swimsuit In Person
If you are going to try on swimsuits at the store, there are a few steps to make your trip ultimately successful.
Choose the style of swimsuit first and consider doing any hair removal you would to wear your swimsuit out prior to trying it on.
Wear your skimpiest panties, and try your bathing suit on over it. This way you can focus on the cut of the swimsuit, and still be hygienic – anything is better than trying on a swimsuit bare.
Make sure to pick suits that are all different from each other to try on, so you have a greater chance of finding the one.
Take pictures in the dressing room. That way as you narrow down your options, you can see how each suit looks or looked while you try on another. You can make side-by-side comparisons even!
back to menu ↑
How to Accentuate Your Body Shape With Swimwear
The best swimsuit for your body shape can be expertly chosen by acknowledging a few things:
• One-piece swimsuits are really underplayed today. You can find a variety of styles with ruching, sheer and lace panels, and updated and less risqué versions of the as well. There are hundreds of lists that show off the dreamy options you can find in one-pieces. The options are beautiful from strappy backs with cool designs to photo-realistic one-pieces and simple one-color pieces that will look flattering on most figures.
You can choose from features from fringe to prints, ruffles to cut outs, strappy and corseted backs with a variety of necklines to flatter and accent any part of your body you want.
Based on body shape there is a one-piece swimsuit that will work whether you are one of the main body types or a combination of two. It's all about seeing what intrigues you and really appeals to your sense of style as well as your body shape.
• Two-piece bikini sets will always be one of the first swimsuit options people think of as a two-piece design, but there are so many options out there that this would be a close-minded assumption. High-waisted pieces have made a major comeback in styles that are not just retro.
The reimagining of the styles includes everything you could dream of wanting. This is a godsend for anyone who wants a more structured fit with a bit of tummy control in it as well. Darker to lighter colored ombre high-waisted bottoms will minimize the waist and broaden the hips, perfect for anyone looking to accentuate that area.
back to menu ↑
Getting Your Swimsuit Tailored
Learning a few tips to tailor your swimsuit can be a brilliant skill.
Sometimes the fit or shape can be fixed with the addition of strategically sewn-in elastic bands.
If you found the perfect top and bottom but want to add a bit of lace or eye-catching details, those are some of the easiest adjustments to make.
Nothing is static until you decide that it's perfect; so don't worry about making the request. Do what is right for you so that your swimsuit is perfect for your body shape.
back to menu ↑
Choosing the Best Beach Cover-Ups
The right beach cover-up is more than a practicality, it can elevate the style and design of the swimsuit you picked.
A swimsuit and cover-up are two pieces of the same fashionable, flattering coin for your body shape when you pick them correctly.
Your cover-up can be anything you want, but if you are planning to make an appearance – there is no harm in being prepped from head to toe.
Length and material are as important as cut and color with a cover-up.
Just because it is called a cover-up does not mean that it should completely occlude the sight of your swimsuit after all.
If you want to show off your legs, go for a shorter-length cover-up or a longer style one with a slit or an open style.
If you are concerned about your upper arms, a tunic dress or kaftan-style cover-up in sheer or lace material can be both pragmatic and sexy.
A maxi-style cover-up can be hit or miss with lengthening your body. This can depend on your choice of fabric and style.
As with anything, the best policy is to try things out.
back to menu ↑
Maxi Style Beach Cover-Ups
Choose a lightweight flowy material, if you want an opaque option, which you can wear like a dress or a robe.
If you want to use one of your everyday styles, use a maxi tank dress you already have.
There are plenty of crochet, lace and sheer cover-ups as well.
Finding the right one is just a matter of shopping around.
The bonus with the sheer and lace options is that your swimsuit can still be on display while you wear it.
back to menu ↑
Sarong
They are very versatile and come in several different styles.
A long or short sarong can be worn draped around the waist for a flattering and easy-to-wear look.
A longer sarong can be tied behind the neck halter style.
The sarong can be crossed over the chest and tied behind the neck, or wrapped around your back and tied behind your neck for an open-style, flowy cover-up.
back to menu ↑
Beach Dress
Just about any style of dress can be found as a cover-up but the most popular are the tunic and caftan.
Both are oversized with wide sleeves and breezy materials for comfort, and to make them easy to put on and take off.
The spaghetti-strap wrap dress is very popular right now. This type of cover-up is easy to take off and put on, light, airy and comfortable. There are plenty of options for length, cut, material and style.
With a focused search, you can find a flattering swimsuit and dress-style cover-up that you can switch out however you choose.
Just remember to accentuate what you really love about your body and your shape.
back to menu ↑
Skirts
Choosing a skirt for a cover-up is excellent for anyone looking to accentuate their bottom half.
A skater skirt will add volume to your hips while showing off your legs and balancing out the top of your swimsuit for a flirty look with lots of movement with a nice summer breeze.
A long flowy maxi skirt can dress your swimsuit up nicely and lengthen your body as well.
Try a skirt with slits from the waistline down for extra movement and to accentuate your legs.
back to menu ↑
DIY Beach Cover-Up
The DIY cover-up is typically an artfully cut-up t-shirt that is very popular because it is personalized and can be very easy and inexpensive to do.
Great way to hang on to an old tee and give it a new life with your carefully selected swimsuit.
back to menu ↑
Everyday Style Beach Cover-Up
A cover-up could always be your regular clothes.
Lots of people will wear shorts and a cute t-shirt with a hat, sandals and shades to make their way to the beach or pool.
back to menu ↑
Choosing Beach Accessories for Your Swimsuit
Accessories are designed to accentuate as well, so consider them a great way to balance out your swimsuit. Below are a few recommendations.
• Body Chains: Body chains come in a variety of styles and look AMAZING with solid color swimsuits on any body type. Because of the variation of styles available, finding one that sits where you need it to and sparkles where you want it to is super-easy. They look amazing in the sun and add a bit of sparkle.
For those looking to accentuate their hips and lengthen their torso, a long chain that starts as a shorter necklace and leads to a waist chain that sits low on the hips would work beautifully.
• Bottomless Sandals: These are a way overlooked accessory options that are stunning. Just a hint of sparkle on the feet, and usually designed like an anklet attached to a toe ring! There are hundreds of styles available that come in metals, crotchets and even tattoos! They are just the right touch for the beach or the pool, and look great in photos.
• Bangles and Armbands: If you want to accentuate your arms, bangles and armbands are the way to go. They are interesting, eye-catching and unlikely to just fall off.
• Earrings: If you are planning on getting in the water, and you really want to wear earrings, the best recommendation is to go for a set of studs or very small hoops to minimize the likelihood that the earrings will get pulled from your ears or worse, ripped through them.
• Temporary Tattoos: Temporary tattoos can pull the eye wherever you like in order to accentuate your body shape and your swimsuit. They are very on trend right now, and can be applied easily for a bit of extra sparkle. Add them wherever you want to draw the eye.
back to menu ↑
Swimwear Tips and Tricks to Remember
There are a lot of things we overlook once we've picked the right swimwear that ends up causing a bit of discomfort. Incorporating these tips and tricks can alleviate that perfectly.
• Swimsuits get bigger when they are wet. If you are planning on being in the water, stay as true to size as you can so you don't end up with soggy diaper syndrome.
• Do the bend and scoop method for swimsuit tops. It fills the cups and ensures a proper and comfortable flattering fit (if you bought the right size).
• Be adventurous! Swimsuit styles change fairly rapidly, so you could find a completely new silhouette that you adore and feel looks amazing on you. If you don't like it when you tried it on, no harm, no foul!
• Silicone inserts or 'chicken cutlets' as they are often called can create a boost of almost a cup size without being noticeable.
• Silicone privacy inserts are thin so they don't add bulk but can be great in tops. They work like privacy pasties so they are easy to apply, waterproof and won't slip, so you won't be unintentionally winking at anyone.
• If you are uncomfortable using silicone inserts, sew an old bra into your bathing suit as needed. The cups will provide lift and comfortable support where you need it.
• Reinforce your ties with hooks. Put a hook and loop wherever you need to in order to prevent slippage. This works especially well for string bikinis with ties on the hips, bust and around the neck. Any slip of the knot on any of these can cause an accidental disaster.
• If you want to choose anything with a color gradient, remember that light colors create a bigger or fuller appearance. No matter what your shape is, choose a gradient or ombre design that is light on top or bottom or both depending on your shape, but stay away from swimsuits that are lighter in the middle. This will create bulk around your waist.
• Keep up with the current trends. A lot of fashion has become more acceptable of other body shapes and new techniques have come about for other body shapes. If you see something that you think could work for you, try it out!
• Keep your goal in mind! What do you want to accentuate? What are you looking to minimize?
• Be a bit sneaky. It is not uncommon for women to wear shapewear under their swimsuits if the design allows. The success of this is built into the cuts chosen and the type of swimsuit, as well as the type of shapewear. High-waisted, one-piece swimsuits and plenty of other styles now come with shapewear built in!
• Buy more than one. Swimsuits face a lot of fading from sun bleaching and the chlorine in pools with more frequent wear. Change it up a bit and get two complementary swimsuits and a few cover-ups. Try mixing and matching pieces as well.
• Use negative space in your design; this will trick the eye into perceiving whatever silhouette you like. This can be done with cut outs or patterns.
• Those with a lighter, pale skin tone can give their preference to deep and dark colors, such as classic black and jewel shades, like emerald green, navy, or purple.
• On the other hand, bright colors look amazing on women with a dark skin tone, so embrace this opportunity!
• Always keep in mind that you can highlight any feature you like with a bright color or print, while solid colors are best for masking any body area you don't like.
• You can add volume to the part of your body you like going for swimsuits with ruffles and extra embellishments on that part, while shirred and ruched fabrics are great for hiding volume on a certain area.
• One-piece swimsuits are perfect for camouflaging your waistline, so if you have a big tummy, this is your best bet.
• High-waist bikini bottoms also hide the waist, while also elongating the legs.
• On the other hand, tankinis call attention to the waistline, so if this is the feature you are proud of, go for it!
• To make your legs look longer and enviable, give your preference to high-cut swimsuit bottoms.
back to menu ↑
Quick Recap
• Pear body types (larger hips, smaller bust, defined waist) would want to wear a one-piece that accentuates the bust. A strapless, halter or sweetheart neckline would help, and details on the top would be most advantageous. Color blocking that puts lighter colors up the top is ideal.
• Hourglass body types (mostly matching bust and hips with a defined waist) look amazing even in the swimwear styles that are a single color with straps on the back. As the body is proportionate, there is no need to try to emphasize one portion of the body over another, though you can if you prefer. A thin-belted one-piece would look amazing, as it would accentuate the waist without adding bulk thanks to the size of the belt.
• The inverted triangle body type would look amazing in anything that shows off and adds volume to the hips. Balance is key here, as top-heavy bodies can look even more so in a swimsuit.
• Pear shaped body types should usually look to accentuate the bust and shoulders to even out the silhouette a bit. This is another body type that top-accentuated swimsuits are preferred for. It is also recommended to accentuate your waist with flattering (not bulky) details.
• Rectangle body shape looks best in strappy bathing suits that draw the attention up or down while creating a waist for a balanced, even look.
back to menu ↑
Helpful Videos
Plus Size Swimwear: How to Select the BEST Swimsuit for your Body Type
...
How to Select the RIGHT Bathing Suit for Your Body Type (REQUESTED) | Jalisa's Fashion Files
...
How to find the perfect bikini/swimsuit for your body type | BIKINI GUIDE | Justine Leconte
...
Best Swimsuits for Your Body Shape 2018 + My Favorite Swimsuits You'll Want Too!
...
Swimwear Hacks | Flatter Every Body Type | Rosegal Try On Haul
...
How to Pick a Swimsuit for Your Body Type : Buying Plus Size Swimsuits
...
How To Choose The Most Flattering Swimsuit For Your Body Type
...
Women Try Plus-Size Swimwear
...
The Perfect Bikini for Your Body
...
Choosing the right bathing suit for your body type
...
back to menu ↑
Recommended Swimwear
Last updated on November 14, 2018 2:53 am