Life Hacks Every Curvy Girl Needs To Know
Is being overweight always a problem? Now, yes being obese is a big problem for health reasons. But being curvy?
It's no secret that men love women with curves so it shouldn't surprise you that those extra pounds are actually making you more attractive. That brings us to next point. We all have problems. This includes thin women, thick women, and obese women.
No reason to feel self-conscious about your body, but instead take the necessary steps to fix the problem. And that doesn't always mean to lose weight! In this post we will talk about how you can live life as a curvy girl and always look your best. These life hacks for curvy girls will make your life easier and make you feel less self-conscious.
Embrace your belly
Avoid wearing horrifically unflattering and baggy, fit-for-high-school-PE apparel. It's not exactly a recipe for feeling good about yourself.
Rather than focusing on hiding your tummy, find clothes that make you happy!
Invest in good undergarments
Take a lesson from plus-size supermodel Ashley Graham and get a great bra and panties.
Always make sure that you wear the proper undergarments.
Nothing is worse than having the perfect outfit but not having the right foundation to pull it off.
Invest in tanks and tees, leggings and tights that you can wear under everything.
Find clothes that flatter your specific shape
Not all curvy girls are the same.
Maybe you're a triangle or an hourglass, a diamond or an oval, a figure eight or inverted triangle.
Whatever your shape, this handy guide can help you find styles that flatter.
Try Crop Tops
Showing off a little bit of tummy can be horrifying when we're so often taught it's a part of the body worthy of shame.
But actually, crop tops tend to look AMAZING on fuller-figured girls. Something about them shows off just the right amount of sexy curves.
Try some thigh-highs or knee-highs
Knee-highs and thigh-highs elongate the legs, add a certain kind of sass, and they make for a far quirkier outfit.
Combine mesh tights (preferably polka dot) with thigh-highs on top.
Something about the combo really does make thicker legs look awesome and sexy.
Wide belts can be your best styling friend
If you don't have time to take a skirt or shirt to the tailor, throw a wide belt on to hide the extra fabric.
A structured blazer can also hide a multitude of tailoring sins.
When in doubt, choose a fit and flare dress
Stop your thighs from rubbing
Thick thighs are really hot, but chub rub is not! And it certainly doesn't feel very good either.
Try rubbing some deodorant between your thighs to avoid this.
Buy Clothes That Actually Fit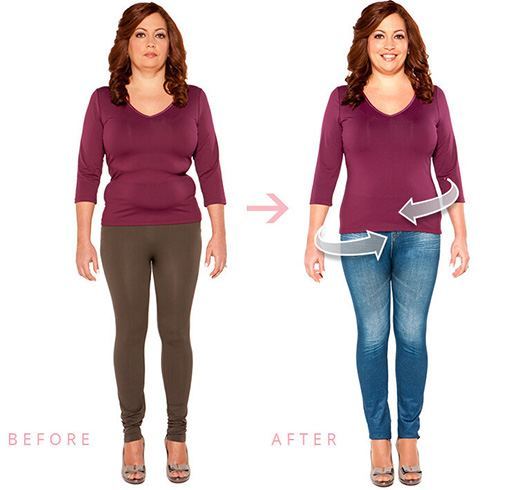 Your muffin top is only as obvious as you allow it to be.
Even women with minimal stomach fat experience this problem when they wear pants that are too tight.
There is a huge difference between wearing jeans that are multiple sizes too small and just having a fat day.
Do some stretches to make your pants fit better
Women generally like to wear form fitting jeans. But it sometimes can take a bit of extra effort to work your way into them.
You could let your jeans air dry and they will fit you better than if you throw them into the dryer. Or you can do some squats, lunges, and other stretches to stretch those babies out a bit.
Use a hair tie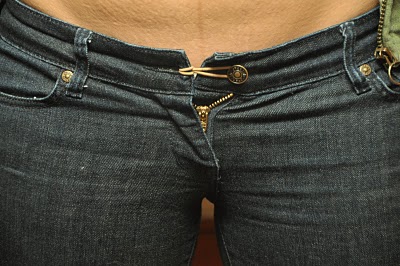 If you're having a fat day or putting off buying new clothes, you can try the rubber band trick.
Pretty much all pregnant women do this and it's amazing!
Look your best in photos
We are living in the age of the selfie.
Everyone has a double chin when taking a photo from below so quit tripping over yours.
Seriously, angles are everything!
Hate cardio?
If you hate cardio, then don't do it! Start lifting weights instead.
Toned fat looks better than flabby fat any day of the week.
Thick and fit is hot! Just search "thick and fit" and you will see what we mean.
Trick your mind into losing weight
Have a lot of weight to lose and feel like you never will because you don't have the determination?
Don't drink your calories. Drink water instead (which has zero calories) you can feel better about eating some sweets later! You can also add some fruit to your water to add some flavor.
Avoid packaged and fast food. Processed food is usually loaded with calories. If you're stopping by McDonald's every day on your lunch break, try packing your lunch instead.
Use a water bottle tracker. And carry it with you everywhere! Water bottle trackers are great especially when you're first starting out.
Always have tortillas, lean meat, and veggies on hand. Lean meats and veggies are great for helping you lose weight.
Use small bowls and plates. Portion control is so important! It's so easy to over eat. That's why using smaller containers is so helpful. Trick your mind into thinking your eating more. Also, try slowing down a bit when you eat.
Do a short workout, don't overwhelm yourself. Short workouts are perfect for when you're new to working out or when you're just feeling lazy. It's better to take baby steps than no steps at all.
Just being mindful about how often we're sitting can help us to lose weight. The motive is to limit your sitting time. Taking breaks during commercials to do some squats or sit ups will help you shed those unwanted pounds.
Get two decent sized rectangle containers and fill them with healthy snacks. You can put one in the fridge and one in your pantry. Having snacks with you keeps you from getting too hungry and making bad choices.
Water helps you to lose weight and so does eating less. Drinking water before you eat fills you up. Chug a 8 oz. glass of water before every meal.
Shapewear will help you look less bulgy and frumpy
There are so many types of shapewear for all of your different troubles areas.
Make Shapewear your friend.
Any thicker woman that has tried shapewear is quick to recommend it to her friends.
Experiment With Makeup
People are always experimenting with ways to better hide flaws and have come up with some really great tricks to help you to look your best.
That includes making your face look slimmer when done properly.
Helpful Videos:
5 Life Hacks Every Curvy Girl Needs To Know!
...
Curvy Life Hacks! DIY Life Hacks Every Curvy Girl Should Know!
...
Curvy Life Hacks | Top 5 Life Hacks for Everyday
...
10 Things Every Curvy Girl Should Know!
...
Curvy Body Style Guide! 10 Clothing Essentials Every Curvy Girl NEEDS!
...
THICK GIRL LIFE HACKS !
...
CURVY GIRL LIFE HACKS : HACKS EVERY GIRL MUST KNOW TO INSTANTLY LOOK THINNER & SKINNY | OMABELLETV
...
Curvy Girl Hacks! How To Stop CHUB RUB in Summer!
...
How To Get A CURVY BODY !! CURVY Girl HACKS You NEED To Know !!!!
...
Curvy Girl Hacks To Look Good in EVERY Photo! Curvy & Plus Size Posing Guide for Instagram!
...
Helpful News & Articles:
You May Like These Dresses
$29.96
$31.99
1 new from $29.96
as of December 7, 2018 12:45 pm
Amazon.com
Free shipping Walmart.com
Do you know of any of beauty hacks for thick or curvy girls? Let me know in the comments below!