Summers can get really hot, which is why dresses have become a staple for many during the warmer months.
Not only do dresses allow your skin to breathe (which is key when there's heat and humidity), but they're versatile, too.
The other great thing about summer dresses is that they come in a wide range of styles, colours and patterns — from classic floral maxis to cute fit-and-flare frocks — and they eliminate the daily hassle of matching tops and bottoms.
There are so many cute dresses available right now that it's almost hard to choose! Read on our round up post for the best styles to buy now before they're gone. From casual, shirt dresses, evening, maxi and everything in between, we've narrowed down the best summer dresses for women in every size and at every price range.
Casual Summer Dresses For Women
During summers, looking comfortable is our priority but we also want to look chic enough to impress all the time.
There is no doubt about the fact that casual dressing take over the charge during this time of the year and heavy party clothes and designer outfits sit back for a while.
Sometimes, casual summer dresses are way more preferable to something that's a bit sexier.
So, what falls under the category of "casual"? For starters, something that's easy to put on and pull off. A casual dress is something that you'd wear while out for brunch, while hanging out with your buds for a drink or while taking a stroll outside. Basically, it's a dress that you wouldn't wear to a fancy party.
No frills, no embellishments and no big price tag are the names of this game.
So, beat the heat this summer and still feel the easy breezy you in these Casual Summer Dresses For Women.
back to menu ↑
Summer Dresses For Plus Size Women
Whether you are looking for a Maxi Dress, something with sleeves or just a dress that will make you want to bare your legs to the world, we have found all the best options in sizes 16 to 32.
back to menu ↑
Summer Dresses For Wedding
Even if you're not the bride, finding a wedding-worthy dress can be so hard. Scroll on to shop these stunning, wedding guest summer dresses for women that are perfect for the big day.
From midi wrap dresses to floral fit and flare frocks to off-the-shoulder showstoppers, our recommendation of summer wedding guest dresses will have you feeling cool as you break it down on the dance floor – no matter the temperature!
back to menu ↑
Knee Length Summer Dresses For Women
Knee-length dresses have been ruling the fashion roost for quite a while. These are synonymous with elegance and style. Your closet is sure to miss the glam touch without stylish dresses and knee-length skirts.
Take a break from trouser-shirt business wear and try out some fresh style. Charm up your looks with printed knee-length dresses, flat footwear, and girlie handbags. Amp up the fashion element in your wardrobe with the addition of knee-length summer dresses for women.
back to menu ↑
Summer Maxi Dresses For Women
Maxi dresses have it all – casually stylish, feminine, comfy and elegant! They are versatile to wear for lounging at the beach or park; for dressy occasions; for strolling around the mall and even for dates.
Long dresses also come in all kinds of gorgeous styles to suit various occasions and personal tastes – from formal events to casual beach wear. Classy to the more fun, eclectic style.
back to menu ↑
Summer Beach Dress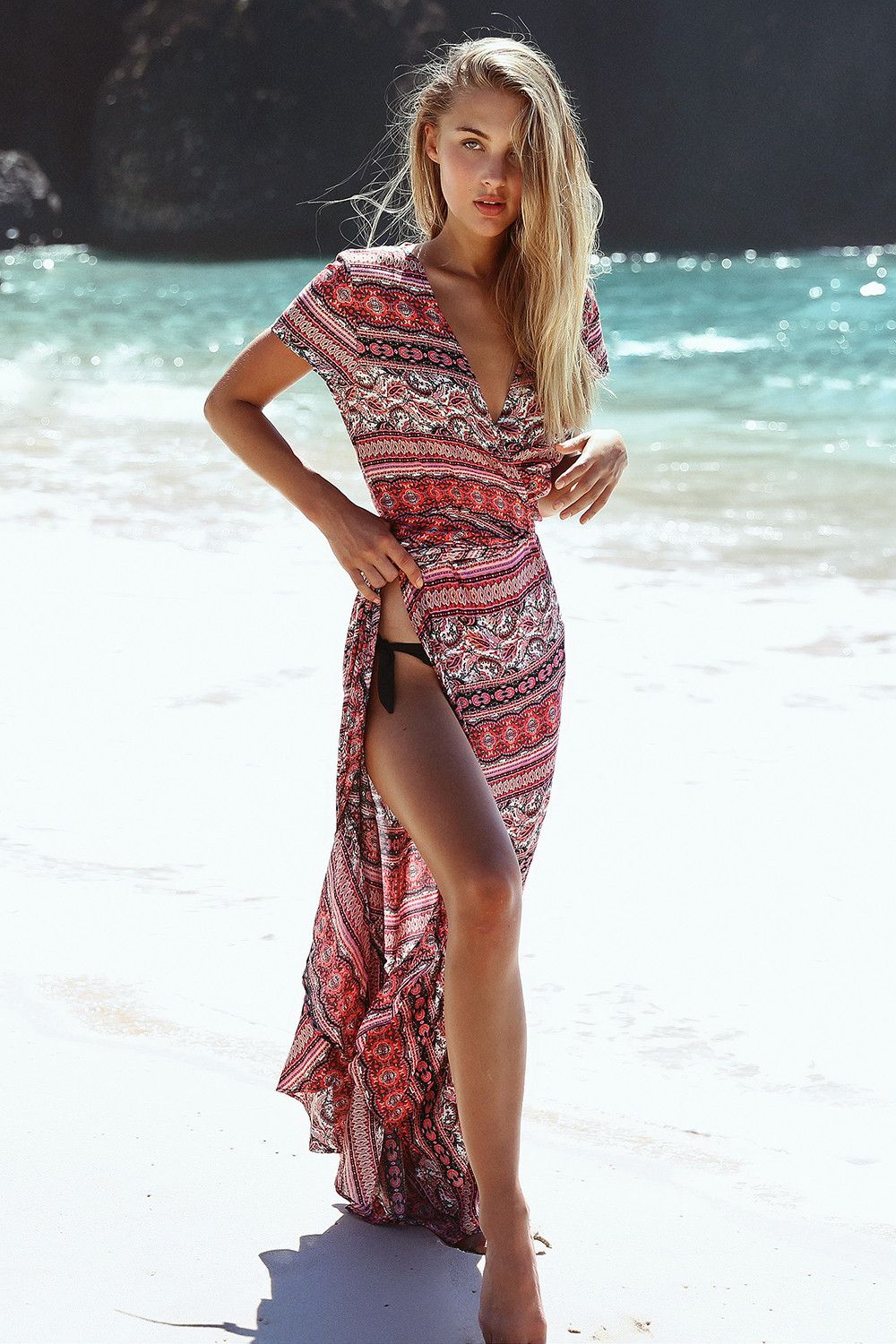 Whether you are going on a beach vacation, beach date, or just spending a lazy day by the water, we have put together a long list of cute and stylish beach outfits that will cover any beach-based occasion.
Beach outfits that are a little dressy are great for dates at the beach or beach events like a concert. Casual beach outfits are for those days when you want to go to the beach but not get into the water but you're admiring it from afar. Then there are those beach outfits that are made up of a cute summer bikini and maybe a cover-up.
back to menu ↑
Off Shoulder Summer Dresses For Women
This trend manages to show a subtle amount of skin without creating an over-the-top feel. Whether you go for a chic party look or a fashionable everyday look, with an off-shoulder top you'll create a statement appeal over and over again.
Unlike wearing a crop top which makes you conscious about adorning a great body with a flat stomach, shoulders almost always look good. This trend has been doing the rounds since the mid-1800s.
It's been long and they're still trending and there is a reason for it. One can easily pair them with anything as they look stunning when paired with the right footwear and gorgeous accessories. They've been trending since forever and – people are still slaying it in their everyday wear, formal wear and even at party events.
Off-shoulder trend works on a variety of body types, and it's the perfect way to show a little skin without getting too risqué! You can style it with denim, flared pants, midi skirts. You can also wear an off-shoulder jumpsuit or an off-shoulder dress.
There you have it—a pretty summer dress for every occasion. Be sure to ask your Stylist for some fantastically fun and flirty dresses in your next Fix, and be totally set for summer.
Which dress are you planning on wearing this summer? Tell us in the comments below.